Oscars 2023: The best-dressed celebrities at the Academy Awards
At the Oscars, we saw some truly jaw-dropping, gorgeous fashion.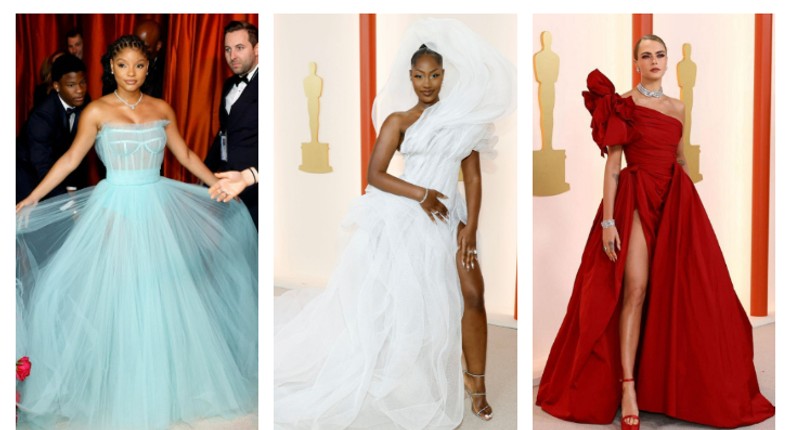 The biggest night in Hollywood was yesterday, and even though it was in celebration of movies, fashion took centre stage.
This year was the 95th Oscar Awards, though we were disappointed by fashion faithful like Zendaya, so many others looked absolutely gorgeous.
Here's our best-dressed list for the Oscars.
Tems
Tems was a sight for sore eyes in a structured Lever Couture white gown. Normally, we hate seeing white gowns on the red carpet because it looks so bridal Tems was anything but bridal. The white contrasted with her deep melanin.
Fan Bingbing
Fan had undoubtedly one of the best outfits that night, she looked like a gliding geisha. Love the red lipstick too, it was striking.
Cara Delevingne
Cara was absolutely glamorous in a steaming red number by Elie Saab. That's how you make a red carpet-appearance. Absolutely fabulous.
Halle Berry
Halle proved again that she's the Queen of the red carpet. She was sultry, and sexy in this high-slit gown by Tamara Ralph. Loved the flower appliques on the gown.
Angela Basset
Angela might not be the real Queen of Wakanda, but she knows how to dress like a queen. She looked absolutely stunning in this purple Moschino and loved the movement of the fabric.
Halle Bailey
Hailey looked every bit like a Disney princess in blue sheer fabric by Dolce and Gabbana.
Deepika Padukone
Deepika took us back to the 1960s and what old Hollywood glamour actually meant in this black Louis Vuitton gown and diamonds by Cartier. She was exquisite!
Jessica Chastain
Jessica never misses a chance to make an absolute fashion statement and she did in a silver shimmering dress. Love the black train in contrast with silver and the bright red lipstick.
Malala
Malala looked absolutely stunning in this silver Versace gown, it's modest, yet stunning.
Eyewitness? Submit your stories now via social or:
Email: news@pulse.ug
Recommended articles
Fally bows out on a high at Kampala edition of his double concert
Pallaso takes pride in visit to Murchison Falls, makes risky gesture
Chef Keletso shines as foodies infuse whisky with divine culinary treats
Vinka goes shooting: 5 benefits of shooting at a gun range
How to prepare for an easy week at work/school
Try this stuffed green pepper recipe instead of baking
How the slave trade birthed this Surma tribe beauty tradition
Everything to know about hair beads from Barbie's new hairstyle
How to wear red lipstick like a pro