Video: Isabella shows Canary, Zambaali the true art of shaking NYASH
Isabella Tugume unleashed some sweet dance moves as she joined fellow news anchors Canary Mugume and Zambaali Bulasio Mukasa to dance to Ameyatchi, a song by Ivorian singer Mathey.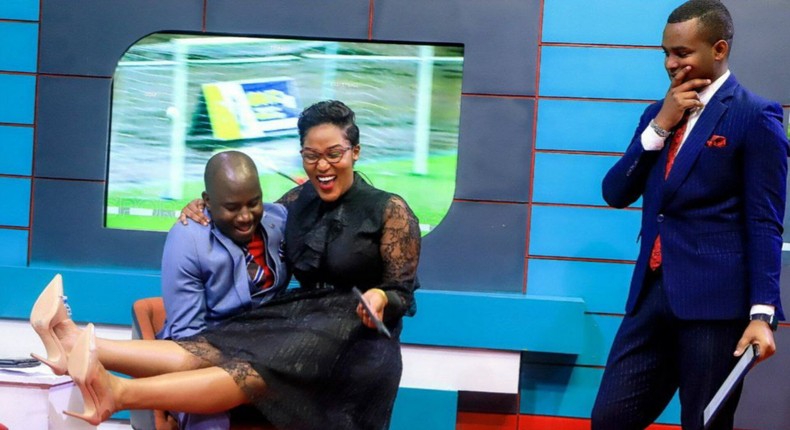 Tugume, who has a Bachelor of Science in Journalism and Public Relations, started her media journey with New Vision before joining NTV as a reporter in 2015. From NTV she did a stint at Radio City which she left to join NBS in 2016.
Mugume, now a news anchor, reporter and talk show host, was born in 1995.
He went to Mbarara Municipal Primary School for his primary education, Mbarara Secondary School and Lutembe International School for his 'O' and 'A' level education respectively.
He holds a degree in information technology and computer engineering from the International University of East Africa.
His foray into media started with Radio West in Mbarara where he was a news reader for content tailored for children between five and fourteen years.
He also conceived an idea to start a newspaper when he was still in high school. Before joining Next Media, he worked with Channel 44 and trained at Urban TV.
Mukasa, a Luganda news anchor and talk show host, has a Bachelor's degree in Public Relations from Ndejje University, according to his Wikipedia entry.
His journalism career started at Tiger FM, which left to join Metro FM, then moved to Capital FM where he also worked with the sister station Beat FM. He later joined CBS FM, where he also worked with the sister TV station, BBS Terefayina.
He left BBS in 2019 to join NBS Television.
Eyewitness? Submit your stories now via social or:
Email: news@pulse.ug
Recommended articles
Watch: Video showing Vanessa bragging about going back to her ex-lover annoys netizens
The Weeknd declared the most popular artist in the world
I used to send Brielle 60k weekly - Vanessa tears up as she exposes Bruno K
I once reported Ann Taylor to my father over washing clothes - SB4 Media
Video: Fabiola 'teaches' Sheebah how to move NYASH
The making of the Queen of Buganda: Let Nabagereka Sylvia Nagginda tell you
Anne Kansiime 'teases' MTN Uganda CEO: Watch their amazing conversation
7 Ugandans eyeing Shs377 million Voice Africa prize to be unveiled on Sunday
New 'Queen Charlotte: A Bridgerton Story' trailer shows a rocky love story