Bobi has to enjoy Alien Skin's music, he's a rich man with rich brothers - Bebe
Bebe Cool said Bob Wine is in the best position to enjoy Alien Skin's music because he is a rich man surrounded by rich family members.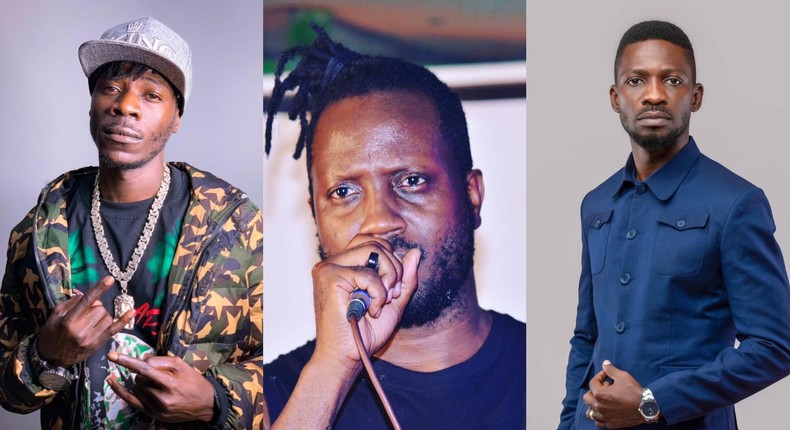 Wine recently said that he enjoys Skin's music. He even sang his hit song Lockdown.
The Tonkaka singer has become a controversial figure in the music industry because of his shaggy appearance and unwillingness to project a polished image.
Bobi Wine asked the public to give him time.
"Give him a chance because he deserves it. We all grow up. Some of us were ruthless but the world gave us a chance. We were judged by many but we were also given a chance. It is good not to dismiss but give chance and an opportunity to people, especially from the ghetto," Wine said.
In a recent interview, when Bebe Cool was asked about Bobi Wine enjoying Alien Skin's music, he said: "Let him enjoy. His life is set. The whole family built houses [Bobi Wine's brothers Eddie Yawe, Mikie Wine and Chairman Nyanzi have shown off posh houses]. What else does he want? He has to enjoy music."
Alien Skin started singing in 2017 as an underground rapper in the ghetto but began dropping jams regularly in 2019.
His single titled Tulabise, which was released in 2021, played a big role in spotlighting him after it was embraced by TikTokers as they danced and sang to it.
After dropping Tonkaka and Sitya Danger in 2022, he got the attention of key influencers in the industry.
Eyewitness? Submit your stories now via social or:
Email: news@pulse.ug
Recommended articles
Angella Katatumba: How I met my ex-husband
Faridah Nakazibwe 'leaves NTV ' after 17 years
Kasita, Feffe Bussi brave tough questions on romance ahead of Dubai concert
Matatu Film Stage, a short movie celebration
List: Nyege Nyege rolls out stellar lineup of performers
Uganda's Sina Tsegazeab scoops prestigious award in Kenya
Cindy hails Bobi Wine, speaks out on big-three battle prospects
I graduated with a master's degree when I was 19 - Angella Katatumba
My granny found porn magazines under my pillow - Byg Kahuna on naughty childhood