Video: Fans forcefully open gates at sold-out Alien Skin concert
Fans forced their way into Freedom City Mall after security personnel closed the gates because the venue was already packed to the maximum.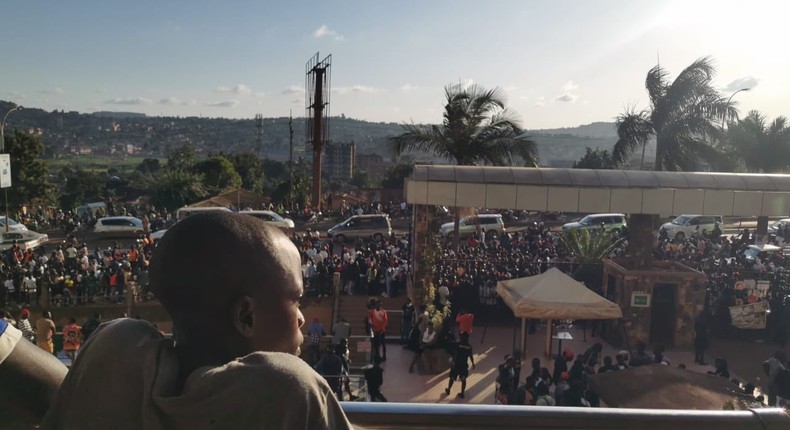 Fans of Alien Skin thronged the Namasuba-based mall to attend his maiden concert.
By mid-day, pictures shared on social media showed that the concert venue was going to be packed.
By 5P.M., the venue was already full and security officers closed the gates. Frustrated fans decided to force entry.
This reporter understands that security has been deployed to fend off violent protests that are likely to emerge.
On December 31, revelers died following a stampede that occurred as fans left the concert hall to watch fireworks displays.
Alien Skin's concert dubbed Sitya Danger was announced following his fight with Pallaso. Promoter Abitex, real name Abby Musinguzi, saw an opportunity of tapping into the buzz the fight had created and put up a show on the same day as Pallaso's.
Pallaso's concert is also being held today, June 9, at Lugogo Cricket Oval in Kampala. Details from the Love Fest concert are still scanty though Balaam Barughara, who is promoting the concert, told Sanyuka T.V. that the Kabaka of Buganda Ronald Muwenda Mutebi II is set to attend.
Revelers have forced their way into the concert hall.
Alien Skin, real name Patrick Mulwana, started singing in 2017 as an underground rapper in the ghetto but began dropping jams regularly in 2019.
His single titled Tulabise, which was released in 2021, played a big role in spotlighting him after it was embraced by TikTokers as they danced and sang to it.
After dropping Tonkaka and Sitya Danger in 2022, he got the attention of key influencers in the industry.
Eyewitness? Submit your stories now via social or:
Email: news@pulse.ug
Recommended articles
Azawi's 'Sankofa' listening party: A musical delight
How Naava got the name 'Grey'
My father kicked me out of home when I chose to become a DJ - Rasta Rob
Azawi dedicates new song to Nakulabye man who broke her heart
Meet your celeb: Who is Faridah Nakazibwe?
Afrigo Band stranded at airport in Turkey
Angella Katatumba: How I met my ex-husband
Faridah Nakazibwe 'leaves NTV ' after 17 years
Kasita, Feffe Bussi brave tough questions on romance ahead of Dubai concert