Mowzey Radio's birthday: Lilian Mbabazi, other musicians pay tribute
Musicians took to social media to reminisce about the late singer Moses Nakintije Ssekibogo, also known as Mowzey Radio.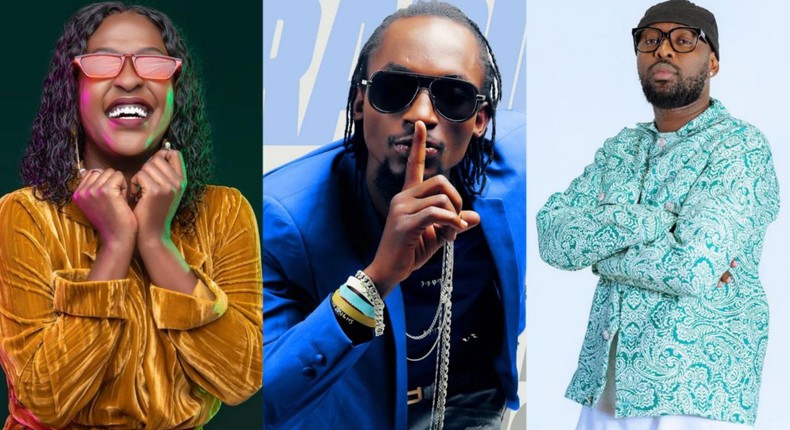 Radio, who died in 2018, would have been celebrating his 38th birthday today.
His baby mama Lilian Mbabazi is among the singers that paid tribute.
She wrote on Twitter: "I will always choose to celebrate the day Moses was born. Because he was born, I had my children🤗because he was born, I met him🥰, because he was born, music in Uganda was changed💃🏾, because he was born, many musicians have been inspired💯 Happy birthday my love. We Miss you 🥰 RIP."
Eddy Kenzo tweeted: "Good morning everyone, let's celebrate king Moses, #foreverlove love ❤️ gone but not forgotten much respect ❤️ Love from Big talent Team Eddy Kenzo 🙏"
Ykee Benda tweeted: "Legend, General Generational, Maksuudi, Only one Radio. Happy Birthday King♥️"
Pallaso posted on Twitter: "Happy Birthday Legend. I shoulda Loved you more. It's sad we never know how much time we still have. You gave me one shot and it changed the world. I am so proud of you and I know you are proud of me.❤️@radioandweasel."
Mowzey Radio, alongside Weasel Manizo formed GoodLyfe, sired two children with Lilian Mbabazi. They are Asante and Izuba.
He left an indelible mark on the entertainment industry through the jams he released and those he wrote for other musicians.
For his baby mama, Lilian Mbabazi, he wrote, among others, I'm in Love, Vitamin and Wiggle Wiggle.
Renowned songwriter Nince Henry recently said that Juliana Kanyomozi's 2015 hit single, Twalina Omukwano, is the most well-executed ballad of the songs Radio wrote for other musicians.
Eyewitness? Submit your stories now via social or:
Email: news@pulse.ug
Recommended articles
Video: Pastor Aidah Nakasujja narrates what she saw when she met God, Jesus, Ibrahim
When Prynce was asked if he'll ever act with Cindy in the same movie
Lydia Jazmine releases video of her latest single 'Gwokya Nga Omuliro'
Fabiola 'warns' Uncle Mo after compliment on her appearance
'Maybe there are other things they looked at' - Cindy on sister losing Miss Uganda contest
Why Katikkiro didn't attend Nabagereka Nagginda book launch
Patricia Sitya Loss: Why I will never forget Rema Namakula
Video: See if you can dance better than Karitas Kario, Bobi Wine's 'friend'
Nimrod, Kasuku name top female artistes
Sadio Mane guides Senegal to fifth consecutive final
Micho rallies government to complete works at Namboole before Algeria clash
Ofoyrwoth broke Kobs' hearts to keep Heathens alive
'Now kill me if Bafana Bafana fails to reach knockouts' - Broos
Gutted Okwi urges Cranes to show true resilience against Taifa Stars
KCCA FC confirm Emmanuel Adebayor visit
Tanzania president Samia Suluhu buys 7,000 tickets for Taifa Stars' fans
Tanzania eyeing a double over Uganda Cranes, says Msuva
Tottenham search for fourth manager in four years as Antonio Conte exits