I used to send Brielle 60k weekly - Vanessa tears up as she exposes Bruno K
The story of musician Bruno K and his baby mama Vanessa has kicked up a storm.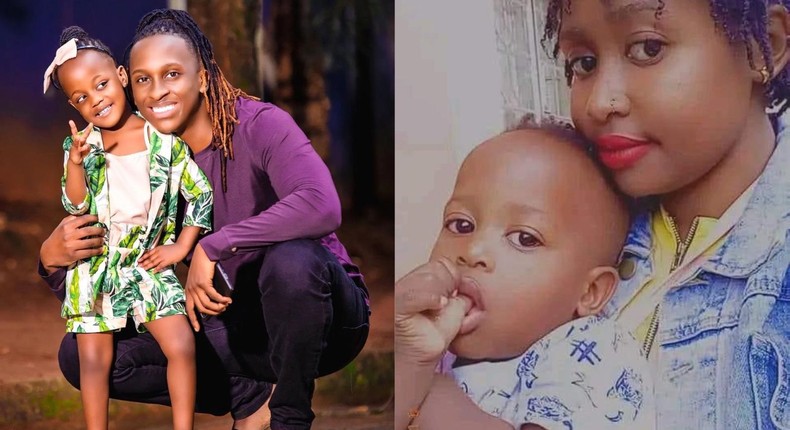 K is being called a deadbeat dad.
K sired a son named Seth Kiggundu with Vanessa. He was born in August 2020.
Before the birth of Seth, K already had a daughter named Brielle Kiggundu. Her mother, Rachael Nasasira, died in December 2021.
Vanessa said at some point she used to send money to help support Brielle though she didn't specify if this was before she started saying with Nakazibwe.
K made that demand after giving her money to start a business.
"I reached a point and he said I've to be sending Brielle money," Vanessa, who was running a Chapati stall, said while speaking to Sanyuka TV's Kayz. [She cried throughout the whole interview.]
"I was sending Brielle money."
K accused her of misusing the startup capital. But Vanessa said it became hard to profit from the business because expenses were high.
"How much can you make from a chapati stall?" she wondered.
"I had to send Shs60k weekly," she went on.
"I reached a point where I'd pick from my own pockets because I didn't want him to think [I was against his daughter]."
She said the people she hired to work at the stalls also cheated her. She had to acquire a loan.
"I suffered with loans," she said.
According to Vanessa, K gave her Shs850k as startup capital. Then later sent more Shs230k.
Issues with Vanessa's mother
Vanessa said K and her mother have never met.
"My mother has no issues with anyone. She has even never called Bruno to talk to him," she said. "They've even never met physically. Yet she's done everything to look after that child."
According to Vanessa, at one point, Bruno K said this about her family: "... those people are dirty. That's why my son is always sick."
K has said he's been supporting her by paying hospital bills, but she said that doesn't make him a father.
"You are obligated to do it, you are not doing me a favour," she said.
She says K told her aunt that he curses the day they met.
After the collapse of the business, K met Vanessa's aunt and told her: "But our dad never paid our school fees?" This was after they kept asking for money from him.
She says she grew up with the thinking that she should be able to provide for her kids what her parents were not able to give her.
She said he also didn't take care of her when she was pregnant.
"It's my mother who had my back and my friends," she said.
K came in when she was 8 months pregnant but that was after Vanessa's relatives confronted him.
He pleaded with her to handle the issues as a couple and she agreed. But K didn't commit to the plan.
He came back again when Seth was 2 months old. He said: "But this child doesn't look like me."
Vanessa told him the kid was too young to determine that. He also used to rebuke her before giving her money.
She said pictures shared on social media where she looked out of shape were from when she was pregnant.
K also didn't come to the hospital when she was giving birth.
She says she is not willing to give him the child because she feels he [K] doesn't like him [Seth].
She said he just wants to "torment" her by taking the child.
She said she would want to see the son and father having fun together but they have failed to workout a co-parenting plan.
She said she can't allow K to take the child. "I can't. My child is my joy," she said.
"People can judge me... I don't care.... I have a life to live as a person."
She added: "I went through depression... I was crushed. I was humiliated."
In an audio leaked on Friday, K was heard telling Vanessa's mother that he wants a DNA test before he commits to sending more funds.
Asked what will happen if DNA says K is not the father of Seth, she said: "I know it's his."
Vanessa is making 24 in April. They started dating when she was 20 in 2018. Seth will be two years old in August.
She said Seth has never called Bruno K his father. It's Vanessa's brothers that Seth calls daddy. Because they [Seth and K] never spend a lot of time together.
She said she's been involved in a number of businesses including operating a restaurant and selling men's clothes, among others.
Vanessa is a cancer patient.
Eyewitness? Submit your stories now via social or:
Email: news@pulse.ug
Recommended articles
Video: Fans forcefully open gates at sold-out Alien Skin concert
Minister JC Muyingo reveals he's Kato Lubwama's elder brother
Kapa Cat once showed me her private pictures, called me to her room - Gravity
Abitex to Pallaso: Come to Alien Skin's concert if you want to sing for a huge crowd
Nsereko talks quitting music: 'My mom grabbed me from stage'
Nyege Nyege Festival clarifies distinction and warns against imitations
A Ka Dope Band's Francis Kasura Unveils 11 Song Debut Album
Sheebah Karungi attacked at Kato Lubwama's vigil
Bad Black proves she's mastered the diss game in this nonchalant apology to Kulthum, Akram
Ibrahimovic's glamorous career in numbers
PHOTOS: summer is here - Arsenal and Chelsea stars already enjoying the break
Pulse Sports' Uganda Premier League Team of the Season