Everything to know about hair beads from Barbie's new hairstyle
Barbie Kyagulanyi has stepped out with bob crochet braids adorned with glass hair beads. The simple yet chic look is such an exotic look that takes great advantage of natural hair. Not only does it save you the trouble of combing and styling natural hair, but it also protects it and boosts growth. The beads too, offer more than an aesthetic appeal. Here's everything you need to know about hair beads and how they can better enhance and protect your hair.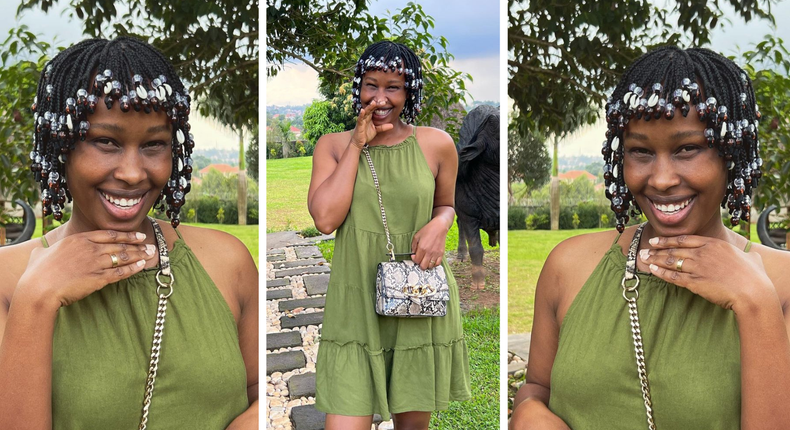 Hair beads are small, often decorative, crafts that can be added to the hair. They are typically used to add a bit of flair or style to a hairstyle and come in a variety of colours and styles. Hair beads can be made from a variety of materials, including plastic, glass, metal, and even wood.
Hair beads have been used all over the world for centuries, and they are still popular today. There are many different types of hair beads, and each has its own unique history and meaning.
Africa is the motherland of hair beads and they were used to adorn the hair of royalty and other important people. The beads were often made from materials like ivory, wood, or even bone. They were often intricately carved and had a very special meaning to the people who wore them.
Hair beads today
Hair beads are still worn today for a trendy yet classic look. They can also be used as a means of self-expression, and affiliation to certain lifestyles, among others. They are a popular accessory for both men and women, and they can be found in a variety of colours, sizes, and shapes. There are even some hair beads that light up.
How are hair beads used?
Pulse
Hair beads are typically added to the hair by threading them onto a strand of hair. They can also be attached to clips or other hair accessories. Some people choose to wear hair beads as part of a specific hairstyle, while others simply use them to add a bit of colour or decoration to their hair.
They serve a variety of purposes, including, protecting the ends of the hair from damage, adding colour or decoration to the hair, creating unique and eye-catching hairstyles, and accessorizing hair accessories such as clips and headbands.
The different types of hair beads
There are many different types of hair beads available on the market. Some of the most popular types include; glass beads, such as the ones Barbie is adorning her hair with, made from clear or coloured glass, plastic beads made from acrylic or polyester, metal beads typically made from aluminum, brass, or copper, and wooden beads, typically made from natural wood materials such as bamboo, cherry, or maple.
All these can either be plain or decorated with patterns or designs.
Pulse
Here are some tips for using hair beads
These tips can help you get the most out of your hair beads
Choose beads that complement your hair colour for a subtle look, or go for contrast with bolder colours for a more eye-catching style.
Experiment with different bead sizes and shapes to create different effects.
Use pliers to open and close the beads, which will make it easier to add and remove them from your hair.
Use a small amount of hairspray on the beads before threading them onto your hair to help keep them in place.
To create a more secure grip, you can wrap the hair around the bead two or three times before closing it off with the pliers.
When removing the beads, be careful not to pull too hard on your hair to avoid damaging it.
How to take care of your beads
To care for your hair beads, you will need to clean them regularly with a mild soap and water solution.
Make sure to rinse the beads thoroughly to remove any soap residue.
You can also use a little bit of baby oil or olive oil on a soft cloth to help keep the beads shiny.
Once every few weeks, you can give them a more thorough cleaning by soaking them in a mixture of warm water and vinegar for about 30 minutes. Rinse the beads well after soaking.
How to remove hair beads safely and painlessly
Pulse
Hair beads are a popular way to accessorize your hair, but they can be a pain to remove. If you've ever pulled out a hair bead only to find that it's tangled in your hair, you know how frustrating and painful it can be. Luckily, there are a few tricks you can use to remove hair beads safely and painlessly.
A pair of sharp scissors
A thin-toothed comb
Cotton balls
Hair oil (coconut or olive oil)
Start by wetting a cotton ball with your chosen oil.
Gently rub the oil into your hair, focusing on the area where the hair bead is located. The goal is to lubricate your hair so that the bead can slide out easily.
Next, use your comb to carefully loosen the hair around the bead. Once the hair is loosened, you should be able to gently pull the bead out with your fingers.
If the bead is still tangled, use your scissors to carefully cut it away from your hair.
Once the bead is removed, use a clean cotton ball to remove any excess oil from your hair.
You may need to shampoo and condition your hair afterwards to get rid of any lingering oil.
Dos and don'ts when wearing hair beads
Hair beads are a great way to add some personality and style to your look, but there are a few things you should keep in mind when wearing them. Here are a few dos and don'ts when it comes to hair beads:
Do: Choose the right size beads. If you have thin hair, avoid large beads that could weigh down your strands and cause damage and breaking.
Don't: Go overboard with the beads. A few strategically placed beads can look great, but too many can be overwhelming. Unless the look calls for it.
Do: Consider the colour of your beads. If you want your beads to stand out, choose brightly coloured beads that will contrast with your hair colour. If you want them to blend in, opt for beads that are a similar colour to your strands.
Do: Be creative with your bead placement. Hair beads can be worn in a variety of ways, so get creative and experiment with different placements.
Don't: Forget to remove your beads before going to bed. Sleeping with hair beads can cause tangles and breakage, so make sure to remove them before hitting the pillow.
Guide to buying hair beads
Pulse
Here are a few tips that will help you buy genuine hair beads.
1. Check the material
Most of the genuine hair beads are sturdy. Most fake products are made from low-quality materials and can break or get damaged easily.
2. Check the colour
Genuine hair beads usually come in a variety of colours. However, some of the fake products may have only one or two colours. Variety is key.
3. Check the price
Genuine hair beads are usually sold at a higher price than the fake products. If you come across a product that is being sold at a very low price, then it is likely to be of poor quality.
4. Check the seller
When buying hair beads, it is important to buy from a reputable seller. Many fake sellers sell low-quality products at a high price. You should avoid dealing with such sellers.
5. Ask for recommendations
If you know someone who has recently bought hair beads, then you can ask for their recommendations. They will be able to guide you to a reputable seller who sells genuine products.
Eyewitness? Submit your stories now via social or:
Email: news@pulse.ug
Recommended articles
Preconception care: C-Care IHK's Dr. Nsubuga answers key questions
7 ways to stay friends with the opposite sex without catching feelings
Tactics con artists use before they scam you
3 reasons relationships that start in December may not last
5 things every young man in a relationship should know about women
5 tips to stop drinking alcohol
The truth about feminine wash and perfumes
7 things your belly button says about your health
Some common causes of coarse palms and how to soften them