Ritah Dancehall asked to pay Spice Diana Shs100 million, says she is ready for prison
Spice Diana through Katuntu and Co. Advocates demanded that Ritah Dancehall pays Shs100 million in "financial compensation" following social media posts she (Dancehall) made against her.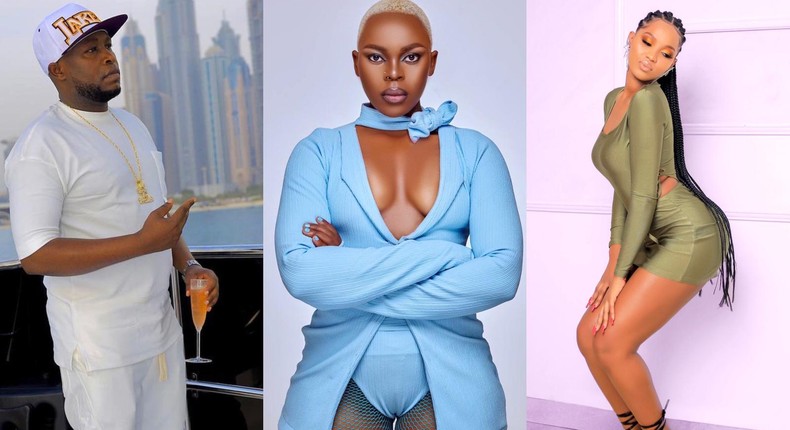 In an intention to sue letter, the advocates said that the posts were "defamatory, offensive and abusive."
According to the letter, the posts "harassed, scandalised and spoiled the reputation" of their "client with malice and callousness."
"The content amounts to libel which is an offense created under Section 179, 180 (1) and 181 of the Penal Code Act Cap 120 on top of being actionable in our civil courts," reads the letter.
The letter says that if she doesn't pay that money, it will increase the fine by "hundreds of millions" and inspire "costly litigation."
The time limit for payment wasn't set.
Dancehall made it clear that she is ready to serve in prison because she doesn't have the money.
"I don't have money... nothing... So, Roger if you want to take me to prison, I will serve, but at least the world knows the truth," Dancehall said while speaking to Spark TV.
During the interview, she said that after the concert she posted on her WhatsApp Status criticising Diana's show held at Lugogo Cricket Oval and someone shared the information with Source Management, the record label that manages Diana.
Roger Lubega owns Source Management.
After receiving the information, Dancehall said, Lubega called her to confront her about dissing their concert.
"If I find out that you abused me, I'll do something you will never forget," Dancehall claims Roger said over the call.
"... I didn't abuse her music, because I enjoy Diana's music and I have used them in my videos... I only commented on the show that was in Lugogo."
Dancehall said that Diana also promised to beat her.
Eyewitness? Submit your stories now via social or:
Email: news@pulse.ug
Recommended articles
Video: Pastor Aidah Nakasujja narrates what she saw when she met God, Jesus, Ibrahim
When Prynce was asked if he'll ever act with Cindy in the same movie
Lydia Jazmine releases video of her latest single 'Gwokya Nga Omuliro'
Fabiola 'warns' Uncle Mo after compliment on her appearance
'Maybe there are other things they looked at' - Cindy on sister losing Miss Uganda contest
Why Katikkiro didn't attend Nabagereka Nagginda book launch
Patricia Sitya Loss: Why I will never forget Rema Namakula
Video: See if you can dance better than Karitas Kario, Bobi Wine's 'friend'
Nimrod, Kasuku name top female artistes
Sadio Mane guides Senegal to fifth consecutive final
Micho rallies government to complete works at Namboole before Algeria clash
Ofoyrwoth broke Kobs' hearts to keep Heathens alive
'Now kill me if Bafana Bafana fails to reach knockouts' - Broos
Gutted Okwi urges Cranes to show true resilience against Taifa Stars
KCCA FC confirm Emmanuel Adebayor visit
Tanzania president Samia Suluhu buys 7,000 tickets for Taifa Stars' fans
Tanzania eyeing a double over Uganda Cranes, says Msuva
Tottenham search for fourth manager in four years as Antonio Conte exits