Pastor sentenced to life imprisonment for impregnating 2 teenage sisters
The minors who testified against the convict stated that he was their church pastor.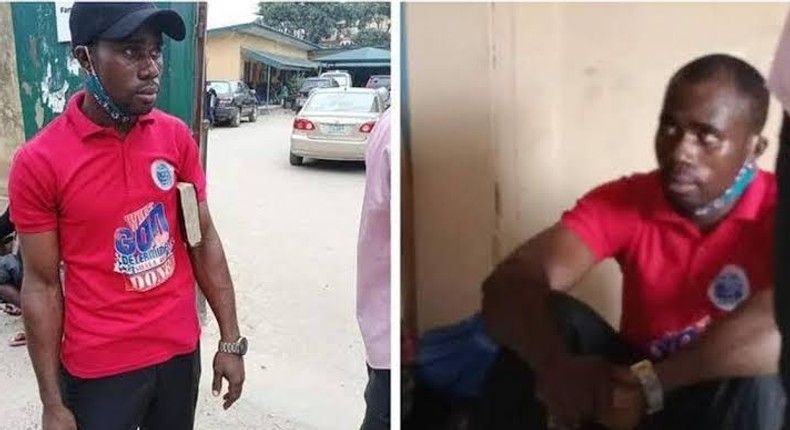 A pastor identified as Nduka Anyanwu has been sentenced to life imprisonment for defiling and impregnating two sisters.
Justice Abiola Soladoye of an Ikeja Sexual Offences and Domestic Violence Court in Lagos handed Anyanwu the sentence on Tuesday, February 14, 2023.
It would be recalled that in April 2022, the convict was dragged to court on two counts of defilement by the Lagos State Government.
The 51-year-old pastor was alleged to have committed the crime between 2019 and August 2020 at Arowojobe Street, in the Oshodi area of Lagos.
The prosecution argued that the offence is punishable under Section 137 of the Criminal Law of Lagos State 2015.
In the course of the trial, the first prosecution witness testified that though she is now 15 years old, she was 13 years old at the time the incident happened.
According to the minor, the defendant was known to her as the pastor of their church, and he had been having sex with her and warned her not to tell anyone.
The victim stated that the defendant said she would not get pregnant, but she eventually got pregnant and had a child for the defendant.
The second prosecution witness, the older sister, now 19 years old, but was 17-year-old, at the time of the incident, corroborated the first witness' testimony that the defendant was their pastor.
She narrated that the defendant had sexual intercourse with her with the consent of her parents, as he promised them that he would take her abroad for greener pastures.
Having convicted Anyanwu, Justice Soladoye held that the victims' parents acted irresponsibly by allowing their pastor to deceive them that he will help them take their children abroad when the defendant cannot even help himself.
Eyewitness? Submit your stories now via social or:
Email: news@pulse.ug
Recommended articles
Ugandan engineer advances to the finals of the Africa Prize Engineering Award
Murdered minister Engola to be honoured as a hero
Museveni in isolation after testing positive for COVID-19
Chaos as tycoon Hamis Kiggundu storms out of Supreme Court in protest
Museveni tests positive for COVID-19
New study reveals 6% of retired police officers commit suicide
Health ministry asks pre-medical interns to meet own internship costs
60% of households in Uganda have seen their incomes grow, says Museveni
Family to honor Kato Lubwama's wish for prolonged funeral
Ibrahimovic's glamorous career in numbers
PHOTOS: summer is here - Arsenal and Chelsea stars already enjoying the break
Pulse Sports' Uganda Premier League Team of the Season