CHAN 2023: South Africa's SABC TV uses Mozambique flag for Uganda's ahead of Senegal clash
A South African's public broadcaster, SABC, the equivalent of UBC TV have swapped the Mozambique flag mistaking it for Uganda flag ahead of the Cranes match against Senegal.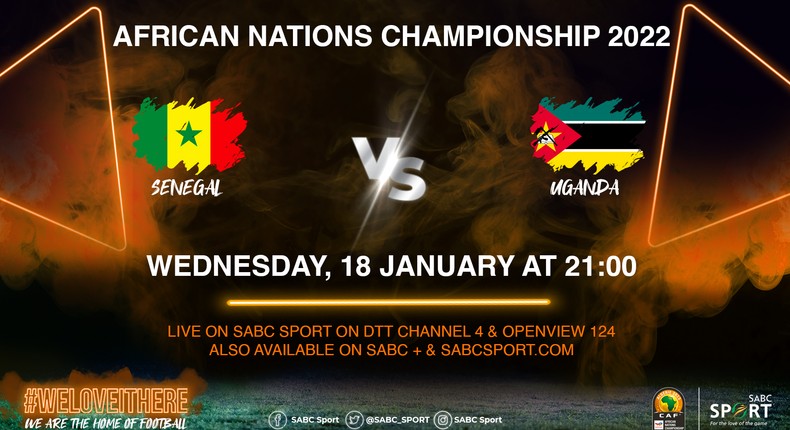 Uganda faces Teranga Lions tonight in the Africa Nations Championships group stages at the 19th May 1956 Stadium, 10pm.
Ahead of the match, South African television channel, SABC, the public broadcaster of the Rainbow nation seems not to have profound knowledge of Uganda after they shared an artwork with Mozambique flag instead of the Ugandan flag.
While Uganda and Mozambique share some of the national colours, black and yellow, the designs are very distinct.
The Mozambique flag has horizontal stripes of green, black, and yellow separated by two narrow white stripes; a red hoist triangle bears a yellow star and other symbols. The width-to-length ratio of the flag is approximately 2 to 3.
Away from the error, Uganda faces a must-win encounter against the Teranga Lions to better their chances of survival. Playing at their sixth consecutive CHAN tournament, the Cranes have never made it out of the group stages.
Micho is optimistic that the Cranes will finally break the jinx.
"This is like a cup final. It is us eating the lion or the lion eating us", he said.
We are excited over this game and we respect our opponents but in a game of football it is unpredictable. We will make the most of our moments and expose their sources of vulnerability. Our ultimate target is to get performance and results. We have been working with sleepless nights to have details about the Senegal game. It is a human game and a perfect team doesn't exist."
More from category
Equator Rally 2023: Who Will Conquer Africa's Toughest Terrain?

The January transfer madness

Messi opens up on regretting various World Cup actions
Recommended articles
All to play for as Uganda Cranes host Taifa Stars in exiled derby
Messi reaches 800 career goals
Ronaldo's legendary international career continues with new world record
Kane passes Rooney as England's record top scorer
Mangat to switch to Hyundai i20 R5 ahead of Pearl
Africa Cup of Nations qualifiers resume with two exciting draws