Museveni's interest in Afcon is a winner for Uganda [Opinion]
Imagine Uganda versus Senegal live in Masaka.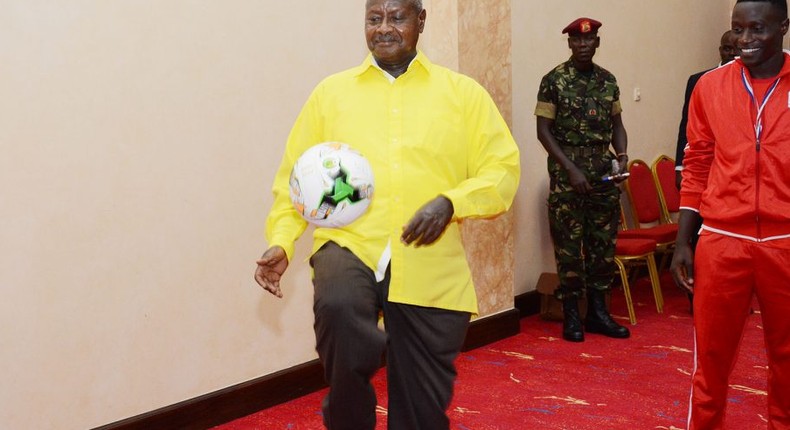 President Yoweri Museveni reportedly is rooting for Uganda, a football crazy country to host the Africa Cup of Nations.
From the revelation made by National Council of Sports General Secretary Dr Bernard Patrick Ogwel, the president reportedly 'informally requested' the NCS to look into the issue of Uganda hosting the Africa Cup of Nations in 2027 and things seem to be adding up perfectly, so far.
As luck or say fate would have it, the Fufa president Moses Magogo has all ears of parliament not only as a legislator but also on personal grounds with the head of the house, Speaker Anita Among.
No wonder while speaking on Fufa FM, he said that the speaker informed him/Fufa that the president has accepted the idea of Uganda co-hosting the 2027 Africa Cup of Nations jointly with Tanzania. Talk about destiny aligning everything in its perfect place!
To begin with, hosting the Afcon is a winner for Uganda, on and off the pitch. It's the real fundamental change!
The government will wake up and respond to the lack of sports infrastructure in the country. This will include renovations and upgrading of existing facilities which will have a long way in promoting sports development for the future generations.
In the recently concluded Afcon finals, Cameroon, the government spent over $885m on sports facilities and built the $60,000-seater Olembe stadium in the capital, Yaounde.
With live telecast of the prestigious tournament, Uganda will benefit from tourism revenues given that the country already has a huge potential in this sector.
Other than the money and sports development, the binding factor, that unifying spirit of sports is deeply needed among the population.
However, interest is not enough. Should the government act in this direction, Uganda's chances are higher considering that the tournament has eluded East African nations for eons.
More from category
Nafian Alionzi: Onyango's worthy successor,Uganda's hero against Senegal [Editor's opinion]

Why Mulindwa's Vipers have struck gold in signing Roberto Bianchi 'Beto' [Editor's Opinion]

FIFA World Cup: Qatar's 'plastic fans' don't deserve a win [Editor's opinion]
Recommended articles
Gutted Okwi urges Cranes to show true resilience against Taifa Stars
KCCA FC confirm Emmanuel Adebayor visit
Tanzania president Samia Suluhu buys 7,000 tickets for Taifa Stars' fans
Tanzania eyeing a double over Uganda Cranes, says Msuva
Tottenham search for fourth manager in four years as Antonio Conte exits
Mo Farah starts final safari with 10 km run in Gabon