QUIZ: Are you addicted to your phone?
Twelve parameters to test if you are addicted to your phone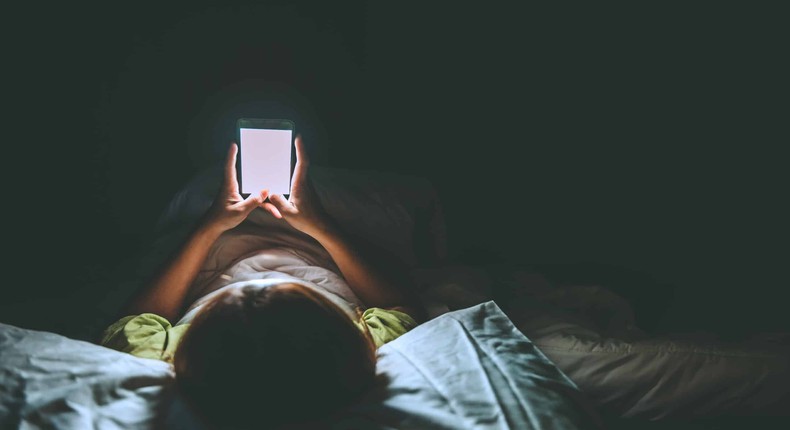 You find yourself checking your phone in every spare time like while waiting for the microwave.
You cannot put the phone down for extended periods of time even if you tried, except when you are sleeping.
You experience withdrawal when you cannot use your phone and you are frustrated if there is no service or your battery is down.
You go to your phone at the first sign of boredom and you use your phone to provide the same relief that people seek in things like overeating, drinking or drugs.
You have trouble sleeping. Research suggests that the blue light emitted by your phone can actually disrupt your sleep cycle, making it harder to fall asleep.
You're Stressed Out By Social Media.
You fail your school tests
You have noticed that you text more than you talk
You mindlessly scroll through phone with no particular aim
You can't leave home without the phone
You're wasting too much time on the phone
You feel lonely without it
You might want to seek for help before it is too late
How have you managed to keep your sanity? Please share
Get our Top Stories delivered to your inbox
Eyewitness? Submit your stories now via social or:
Email: news@pulse.ug
Recommended articles
What the Venus holes (lower back dimples) mean for your health
Buganda mourns 'the most brave woman of all time in Buganda Kingdom'
'In Arteta we Trust' - Reactions as Arsenal crush Spurs in London Derby
'Don't claim you love someone if you haven't done this for them'
Our soldiers involved in the DRC helicopter accident are recovering well - Gen. Kainerugaba
Media body asks Museveni not to sign the Computer Misuse Bill
'I inspire big women… no one can stop me' - Winnie Nwagi
Nigeria to become the 3rd most populous country by 2050. What does this mean?
NBL Finals: Nam Blazers fight back to win game two, JKL Dolphins match on