What lies ahead for NSSF's Byarugaba in row for contract renewal
National Social Security Fund (NSSF) Managing Director Richard Byarugaba signed out of the Fund on December 1, 2022. He sent out a brief email to staff with the subject line "Hope to see you again, maybe!".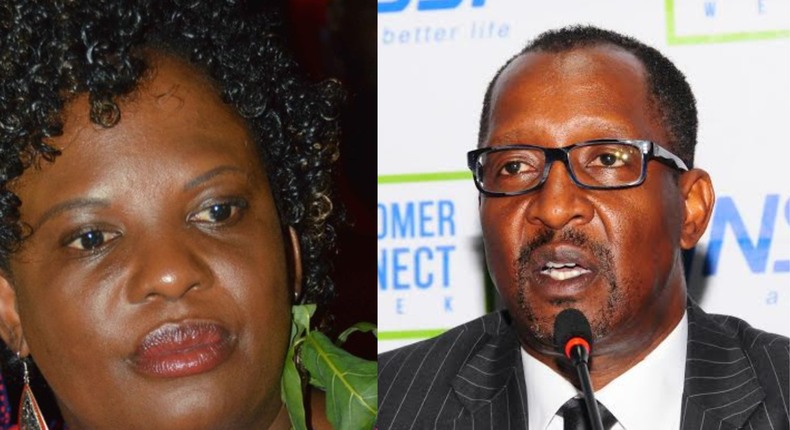 The Director had refused to retire and declined a contract of less than five years.
Succeeding him is Patrick Ayota, his Deputy, as interim Managing Director as directed by Labour and Gender Minister Betty Amongi. According to Amongi, "further consultations" are being conducted before a final decision is made.
When asked why she renewed Ayota's contract and not Byarugaba's despite NSSF Board recommendation for both, Amongi said "there are petitions with allegations of financial impropriety in relation to the Fund, which require further consultations at higher levels before I can sign [renewal of the contract]."
Challenges against Byarugaba reappointment
Disputed cost of the Pension Towers on Lumumba Avenue in Kampala. Government agencies are inestigating claims that the original cost was boosted by an extra $10 million.
Unlawful use of President Museveni's name to purchase land at Shs400 billion from giant sugar producers in country.
Ongoing investigations to establish that enlisted employers have registered all eligible employees under them and that no money is leaking through Fund Staff.
Byarugaba's alleged refusal to release funds for maize cleaning machinery after Kenya put ban on exports due to high aflotoxine levels.
Questionable conduct during the contracting of the construction of the Fund commercial/office development on Yusuf Lule Road.
Alleged abuse of Fund dormant and suspense accounts. Suspense accounts are for foreign employees paid by local employers.
It is said that on August 27, 2019, a South African national named Sifiso Simela Biyomo, who was previously employed by Air Uganda, visited the Entebbe branch office of the Fund to claim his deductions credited to NSSF.
He was immediately registered under number 831870111199016 by a relationship manager. However, when data analysts investigated the matter, it was found that Simela's particulars and photograph were not in the system. He had instead received his money using Uganda National ID number CM59060102FJGA which did not belong to him according to internal auditors.
In the same year in October, the Head of Internal Audit, Geoffrey Barigye, reported that "six non-registered members had been irregularly registered, their suspense records cleared and age benefits for more than Shs113 million had been processed and paid under the same fraudulent scheme".
It was discovered that one Joseph Sooka, a Fund relationship manager, used his accounts in a commercial bank, mobile money accounts and accounts of six of his relatives to disperse the money.
It is alleged that the millions are only the tip of the iceberg of a fraud scheme possibly dealing in billions.
Byarugaba's fate will be decided through several executive meetings.
Before his contract expired, the Gender and Labour Minister Betty Amongi had asked him in a letter from July 22, to retire because he had reached retirement age earlier this year. She added that upon retirement, he still stood a chance of being reappointed as his Deputy Patrick Ayota. Byarugaba declined to comment or or to act on the recommendations of the letter.
However, in a legal opinion to Amongi, Attorney General Kiryowa Kiwanuka said that under the ammended NSSF Act, there was no age threshold for the Managing Director. Moreover, there was nothing in the law that prevents the Minister from reappointing him upon recommendation from the Fund Board.
As his final day drew near, on November 25, 2022, the chairperson of the Fund Board, Peter Kimbowa, wrote to Minister Amongi recommending that Byarugaba be reappointed for another five years.
It is alleged that the decision was reached following a meeting between the Board members and the Uganda Premier Robinah Nabbanja.
Prior to the meeting with the Premier, President Museveni had cautioned Amongi against hounding Byarugaba about his age saying "it is better one consults quietly about these appointments before deciding. In the case of NSSF, the present group seem to have done a good job, good performance is not very common in parastatals. Where it occurs, the actors should be appreciated," he noted.
After those words, he called for a meeting.
The meeting was attended by the Premier, Attorney General Kiryowa Kiwanuka, Minister Amongi and her Finance counterpart, and political co-supervisor of the workers' pension fund, Matia Kasaija.
It was agreed upon that Byarugaba and Ayota had done a good job in the 12 years of their reign. However, the decision for their reappointment was left to the NSSF Board.
Both meetings culminated in the letter wrote to Amongi recommending Byarugaba.
Board's approval
"Guided by the provisions of the NSSF (Amendment) Act, 2022, specifically Sections 39 and 40 with respect to the appointment of the managing director and deputy managing director, the Board resolved to recommend to you as follows," Kimbowa wrote in his letter referenced ATI/CONF/02-22.
"That Mr Richard Byarugaba be appointed as managing director of the National Social Security Fund to serve for a period of five years from the date of expiry of his current contract [and] that Mr Patrick Ayota be appointed as deputy managing director, to serve for a period of five years from the date of appointment."
Allegations around Amongi's refusal to give Byarugaba her signature include: that Byarugaba refused to approve Shs6 billion upon her request. She cited, that the money would be used for, budget monitoring, accelerating recruitment of new NSSF contributors including some 250,000 targeted Ugandan labourers in the Middle East alone.
The interim Head Ayota, complied to retire when Amongi asked. He was initially reappointed for three years before the contract was revised to five years after Byarugaba's "defiance".
Eyewitness? Submit your stories now via social or:
Email: news@pulse.ug
Recommended articles
Hatmah Nalugwa: What you should do before taking your child back to school
PLE 2022: Top districts with most division one candidates
PLE 2022: More special needs candidates sat for exams
Over 90,000 pupils fail 2022 PLE exams
PLE 2022: Top schools with 4 in 4
PLE: Boys outshine girls in overall performance
PLE: Girls perform better than boys in English
How to check PLE results on phone
PLE results out, performance improves