Police releases list of 143 traffic offenders [See Full List in story]
Uganda Police has released the number plates of 143 cars whose drivers have broken traffic rules and they are going to pay Express penalty scheme (EPS) penalties after being charged.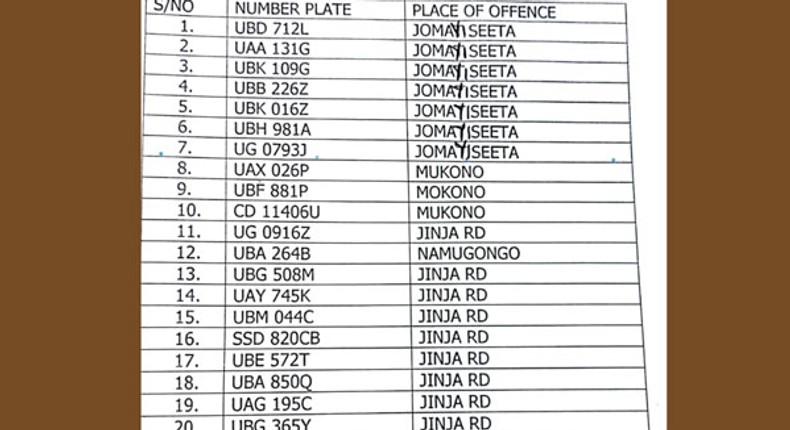 Assistant Superintendent of Police (ASP) Faridah Nampiima, who is the traffic police spokesperson, released the list.
"Using our cameras, 143 violated traffic laws and regulations in various locations and they have been charged accordingly. You are advised to report to the nearest police station and pick up your EPS tickets for the various offences," she said in a statement.
At an average of sh100,000 per car, the 'name and shame' campaign could harvest shs14million in penalties.
Nampiima said this is just the beginning, traffic police will continue to come down hard on traffic violators using CCTV footage.
The said footage captures all the details namely date, time, place of offense, road, offense, car make, number plate and vehicle color.
"Every week we shall be having a list of traffic violaters as a mechanism of naming and shaming. We remind all road users that road safety begins with you. Avoid behaviors that would lead you to misuse the road," she warned.
435 die in 5 weeks, 12 die daily
The traffic records released last month reveal that 435 people were killed in various road accidents across the country in just five weeks. The figures also indicate that 1,300 people were left with serious injuries therefrom.
ASP Nampiima said the four weeks of June left 366 people killed in road accidents while 1,146 road users survived with critical injuries.
Nampiima adds that another 69 people died in road crashes in the first nine days of July. The 366 people killed in June and 69 killed in the first week of July, bringing the total number of road deaths to 435.
The deaths mean 87 lost their lives each week that passed. When computed to days, the road carnage translates to 12 people dying each day as a result of vehicle, motorcycle or bicycle accidents.
The lists
Pulse
Pulse
Pulse
Get our Top Stories delivered to your inbox
Eyewitness? Submit your stories now via social or:
Email: news@pulse.ug
Recommended articles
Buganda mourns 'the most brave woman of all time in Buganda Kingdom'
Our soldiers involved in the DRC helicopter accident are recovering well - Gen. Kainerugaba
Media body asks Museveni not to sign the Computer Misuse Bill
'Don't compare Shs80,000 allowance to human life' - Aceng tells Ebola task force
'Kibanda' video hall operator burns customer to death over Shs5,000 in Arua
UPDF hunting for men who kidnapped, robbed Pakistan national
Education minister says 'activists' promoting immorality in schools will be arrested
Katikkiro Peter Mayiga lauds KCCA over improved service delivery
How police trailed, arrested 'Kigaali' criminal gang leader at musical concert