How to make avocado oil in your own kitchen
Homemade vegetable oils are fresher and more flavourful than store-bought oils. You can make your own oil and improve your health at a fraction of the would-be cost. Some of the foods you can make oil out of are nuts and some seeds, but a cheaper option would be avocado.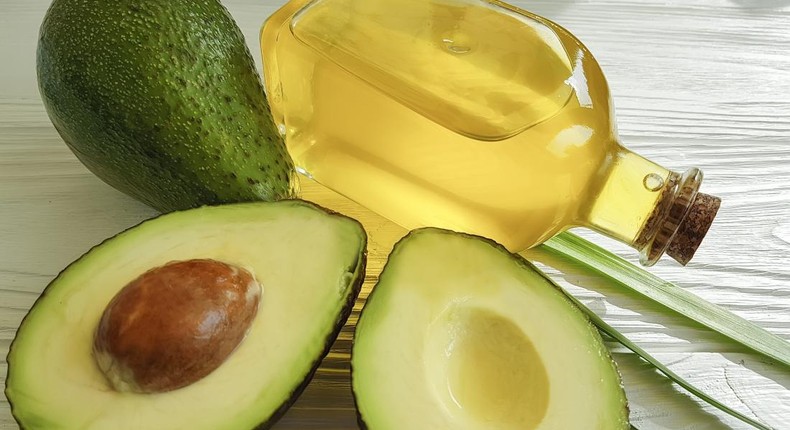 You can use your avocado oil to:
calm itchy skin.
heal chapped skin.
replenish dry skin.
hydrate and moisturize skin.
shield skin from ultraviolet radiation.
protect against skin damage.
nourish your hair
Here is how you can make avocado oil at home:
#1 Ripe avocados
Look for avocados that are slightly soft or springy to the touch, but not mushy. They must not be all the way ripe. You will be extracting the oil from the pulp of the avocado. Since One avocado will only yield about One tablespoon (15 mL) of oil or a little less, you will need a lot of avocados if you want a significant quantity of oil. One hundred avocados will get you about 1.5 liters only. Avocado oil has a lot of uses, including skin and hair care as well as cooking.
#2 Remove the skin and seed
Pulse
Use a kitchen knife to cut through the skin and pulp of the avocado, cutting around the large pit in the middle. Carefully pull the two halves of the avocado apart, then scoop out the seed and peel off the skin.
#3 Blend the avocado into a paste
Pulse
Once you've removed the pulp, mash it up with a potato masher or mortar and pestle. Then, place the avocado in a blender and mix it into a creamy paste.
Add a little water if the pulp is too firm to blend easily.
If you like, you can mix in a little bit of coconut oil at this point to help the avocado pulp release its oil more easily. If you used 12 avocados, put in about 1⁄3 cup (79 mL) of coconut oil.
#4 Cook the paste
Place the blended avocado pulp in a large sauce pan over the lowest possible heat on your stove. Use a simmer setting, if you can. Simmer the pulp for 40 to 60 minutes, or until it changes from pale green to dark green or brown.
Stir the pulp frequently as it cooks, or it may stick to the sides of the pan and burn.
You should begin to see the oil separating from the pulp and pooling at the top of the pan as you cook.
# 5 Scoop the mixture into a bowl and cover it with a muslin cloth
Once your oil is cooked, pour it into a heat-safe container, such as a metal or ceramic bowl. Drape a clean kitchen cloth made of a fine material, such as muslin or cheesecloth, over the top of the bowl.
Since you will be squeezing the oil out of the cooked avocado pulp by hand, let the mixture sit for several minutes to cool down.
#6 Squeeze the oil out
Once the avocado pulp is cool enough to touch, flip the bowl over to transfer the pulp onto the cloth. Gather the edges together to create a bag, then squeeze the pulp through the cloth and let the oil run out.
Squeeze the cloth over a clean bowl or directly over a storage container, such as a glass bottle or jar.
The avocado oil should be a rich, emerald green color.
#7 Store your oil in an airtight container in the refrigerator for up to a year
Put the oil in a container with an airtight lid or stopper, and store it away from light and heat for a whole year. You read that right. Airtight container. In the fridge. For a year. Avocado oil keeps best when stored in the refrigerator.
Your avocado oil may become cloudy when it is chilled, but it should become clear again when it warms up to room temperature.
If you don't have an airtight container, use your avocado oil within 2 or 3 days.
Fresh avocado oil should have a subtle, nutty smell. If your oil has gone bad, it will develop a strong, rancid smell and an unpleasant taste.
Eyewitness? Submit your stories now via social or:
Email: news@pulse.ug
Recommended articles
Top 8 influential people in 2022 (Pulse Picks)
Wearing socks during sex can give you more intense orgasms, here's how
Why you never get a second date
For men: 6 habits that damage your sexual health
How to create festive, Christmassy atmosphere in December
'How to deal with a parasitic girlfriend'
Ebola cases have drastically gone down - Health Ministry