21 striped jumper trends fashion lovers should try this October
Stripped jumpers are one of the fashion staples, a timeless piece alongside denim jumpsuits, jackets, trench coats and sweatshirts. Fashion houses are championing the return of these striped cozy clothing, so make space in your wardrobe for this chic cozy style.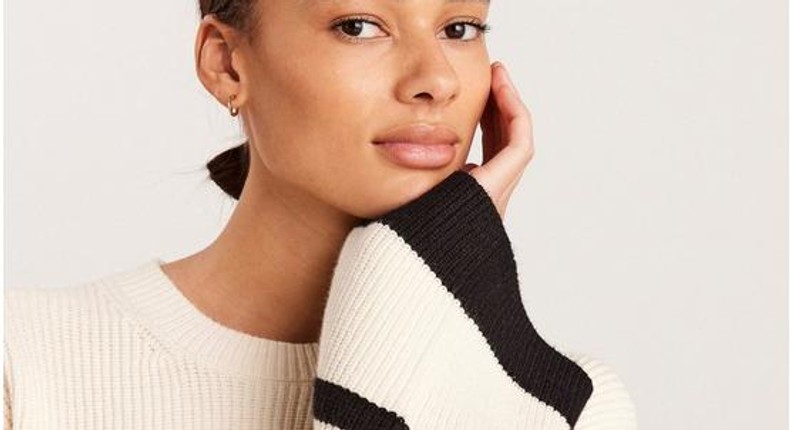 Pulse
Pulse
Pulse
Pulse
Pulse
Pulse
It seems that most of the fashion staples cater to style during the cooler temperatures, however, in recent times they have been modified to fit the "smartness knows no weather" truism and cater to personal styles.
Fashion houses CELINE, AW22, TOTÊME and COS, Zara, ALTUZARRA, are trailblazing the stripped jumper in all cuts, silhouettes, oversized, wide sleeves, roll necks, V-neck, front quarter-zip, among other updates.
Pulse
Pulse
Pulse
Pulse
Pulse
Pulse
Pulse
Pulse
Matching
They are easy to style because they fit almost every occasion be it formal, dinner, party, event, ceremony. They pair well with leather trousers and shorts, leggings and jeggings, high-waist jeans and pants.
The best part about integrating striped jumpers in your wardrobe is that they rarely clash with similar colours and other articles of clothing.
Shoes
To finish off the look, you can wear dress shoes, flats, heels for a formal look. For a loungewear look, finish off with flip flops or sneakers.
Pulse
Pulse
Pulse
Pulse
Pulse
Pulse
Accessories
Go easy on jewellery for the subdued colours like ebony. Focus on making your make-up pop with bright lipstick and pronounced eye make-up. Keep it simple with a wrist accessory, earrings and a pair of sunglasses if the outdoors call for it.
When to wear stripped jumpers
This depends on personal preferences and style. Black stripes on white background is more elegant than, say, white stripes on Black background.
Colourful stripe jumpers do well in a formal setting, after hours and express personality.
White stripes on Black background give off the loungewear vibe more than the rest. They are best for casual wear, hanging out.
The ebony striped jumpers are suited for formal situations, they show that you mean business and require the least accessorising.
Striped jumpers, like other timeless fashion, have adopted a look for all occasions. So don't forget to experiment with your style and preferences how to get cozy, elegant and casual with this fashion trend.
Eyewitness? Submit your stories now via social or:
Email: news@pulse.ug
Recommended articles
How to check if someone is available for venting
How to define a relationship without asking 'what are we?'
The African all-female tribe where men are not allowed
6 weird things society accepts as normal
Lessons about cheating from lady who met her husband's side chic
How to deal with a deadbeat baby daddy situation
How to deal with your girlfriend's male bestie
The best way to brush your teeth to prevent mouth odour
How to handle hosting family on Easter for the first time