No argument, Nicki Minaj and Lil Wayne are the best rappers ever - Drake
Drake has ranked Lil Wayne and Nicki Minaj as the best rappers in the history of rap.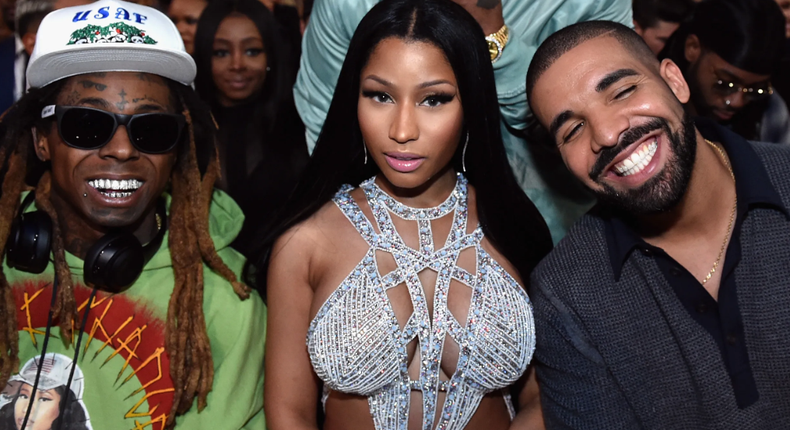 Drake, not a shabby rapper himself, was performing in Toronto over the weekend during the Young Money Reunion Tour.
Drake was effusive with his praise as he took several moments during his time in the spotlight to pay his highest respects to Weezy.
Weezy is the man who discovered both Drake and Nicki several years ago, when they were nobodies in the industry.
Drizzy, Drake's alias, gave the highest praise and adulation to Wayne as the latter stood there grinning like a kid getting his candy fix.
Drake's opinion that Wayne and Minaj are GOATs is a curious argument, especially in Wayne's case. He is good, but he has been dogged by cases of copyright infringement in the past.
Again, he does not have the skill and longevity of Jay-Z or Nas, who might be the true GOATs of hip-hop.
As for Nicki, he might have a point in calling her a GOAT amongst the females. In her case, many agree that no other "femcee" is close in status. However, with other brilliant female MCs out there, past and present, this is still a controversial choice.
There've been countless female rappers before Nicki, such as MC Lyte and several others. Currently there's Cardi B or even Megan Thee Stallion, just to name a couple, who come close and many believe surpass Minaj.
However, Drake has made up his mind and he clearly thinks that these two are the cream of the crop. To make matters solid, he said his views about them being the best loud and proud.
Eyewitness? Submit your stories now via social or:
Email: news@pulse.ug
Recommended articles
Cynthia declined first time Ron offered to take her out yet she knew he's 'hot'
We feared I was infertile, says Flavia Tumusiime
'Bebe Cool is not easy,' says Chameleone ahead of music showdown
Flavia speaks out on beef with NTV's Jackie Ssenyondo
Fille Mutoni names two Ugandan singers she would like to collab with
'She tried to suppress my talent' - Da Agent on why he dumped ex-manager
Dorah 'set to release Bruno K's tapes' as paternity fight spirals
Bad Black claims ex-Cranes star Sepuya fathered daughter; demands DNA test
When Naava Grey wanted to 'strangle' Alex Muhangi