James Franco to act as Fidel Castro in upcoming film
Golden Globe-winning actor, James Franco, has been cast to play the role of former Cuban leader Fidel Castro.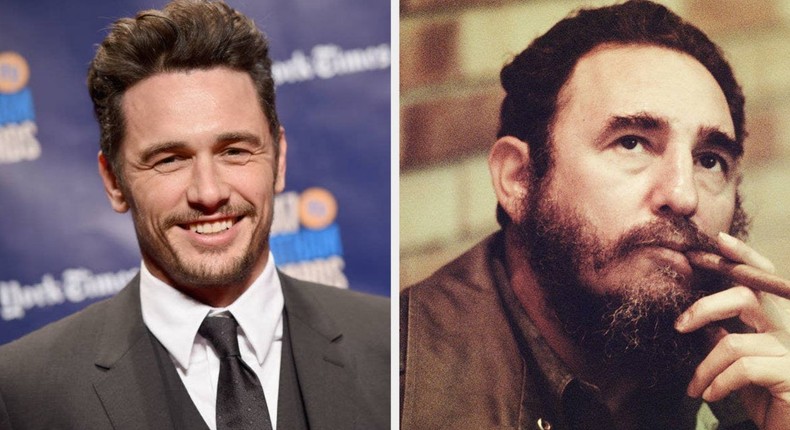 It was recently announced that Franco would play Castro in Miguel Bardem's film "Alina of Cuba."
The movie follows the lives of Alina Fernandez (Ana Villafañe), who was Castro's daughter, alongside Cuban socialite Natalia "Naty" Revuelta (Mía Maestro), a political opponent of the late Castro.
However, Franco's casting as Castro is believed to be controversial due to the actor's sexual misconduct allegations and the fact that Franco is not of Cuban or Latino descent.
Sexual misconduct
In 2018, Franco was accused by five women of inappropriate or sexually exploitative behavior. Four of the women were reportedly his students at the film school he founded and the fifth referred to him as a "mentor."
Why Franco?
John Martinez O'Felan, one of the "Alina of Cuba" producers, clarified the chose of Franco for the role.
"Finding and convincing James Franco to play Castro was a fun and challenging process and has been the collaborative work of the universe, because our director's original order was to find an actor who holds a close physical resemblance to the real Castro to build from, along with finding someone Alina Fernandez would strongly endorse," he said.
O'Felan also explained why Franco was the final choice, despite not having a Latino background.
"[W]e used Fidel Castro's ancient Galician heraldry as our focal compass, and then combed through the entire ranks of actors with Latin roots in Hollywood to find someone who has a similar facial structure," the producer said.
Adding that, "In executing a close search into our hopefuls through the eye of Spanish and Portuguese genealogy which the Galicians held, we found that James, by far, had the closest facial likeness of our industry's leading actors, meaning that the focus would be to build out his character accent and we'd have a stunning on-screen match to intrigue audiences and bring the story to life with true visual integrity."
The film has not yet been given a release date.
Get our Top Stories delivered to your inbox
Eyewitness? Submit your stories now via social or:
Email: news@pulse.ug
Recommended articles
'Don't claim you love someone if you haven't done this for them'
'I inspire big women… no one can stop me' - Winnie Nwagi
Nick Cannon welcomes his 10th child, weeks before his 11th is due
Women failed to accept men have weakness for beautiful girls - Kamenyo
My ex-lover made me abstain until I met pastor Bugingo - Susan Makula
'Stalker' drives car into singer Chris Brown's home, crashes Tesla
'Nicki Minaj is broke like, broke broke,' says rapper Azealia Banks
Ronald Alimpa accident: Bobi Wine mourns passing of Lady Grace, three others
Meet Don Andre, Uganda's fastest rising comedian