Levixone says Desire Luzinda's 'testimonies are changing the world'
Sam Lucas Lubyogo, popularly known as Levixone, doesn't want to talk about his relationship with singer Desire Luzinda but he is impressed by how she has turned her life around.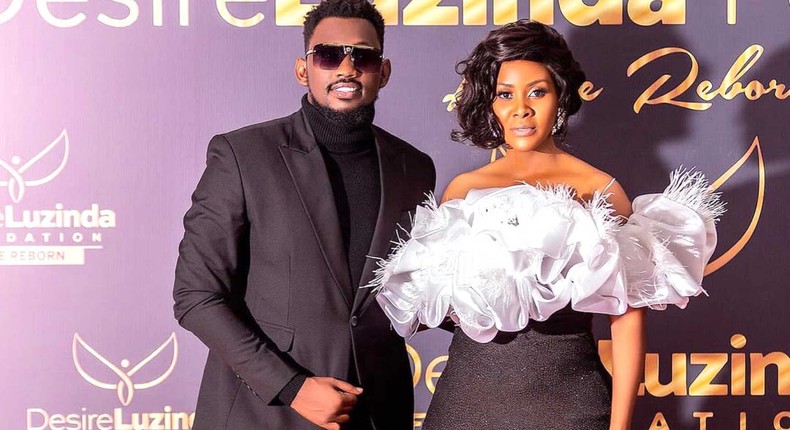 In 2018, Luzinda announced that she had become 'Born Again', moving on from secular music to gospel.
"He made my life real; I saw God and wonders started happening. No one can never talk me out of Him, never," the 'Kitone' singer, who was praying with Phaneroo Ministries International -- led by Apostle Grace Lubega -- would later say.
That same year, 2018, she unveiled a 17-gospel song album dubbed Transition with songs like 'Onkolela', 'Stood in the Gap', 'Lwakisa', 'Maanyi Gamukyara', 'Kale', 'Love Yo', 'Kimala' and 'What a Man'.
Other songs on the well-received album include 'Kiwujjo', 'Nyo Nyo Dala', 'Be There', 'Ziba Ziba', 'Ondeka', 'Never Let You Go', 'Nkwasaganya', 'Damn' and 'Pocket Money'.
Before the change into gospel music, Luzinda, 37, whose favorite Bible verse is "there is no condemnation now for those who live in union with Christ Jesus" from Romans 8:1, had had a successful music career but it had been mired with some disturbing scandals, including the release of her sex-tape with her ex-Nigerian boyfriend.
According to Lexivone, the testimonies Luzinda has been sharing since the transition are having a huge impact on people listening to them.
Pulse
Levixone, who will be holding a concert named 'Mbeera Genesis' on November 26 at Kololo Airstrip in Kampala, said he hasn't confirmed if Luzinda will be performing and he also declined to comment on whether the two got married.
"... maybe one day if I feel like I want to tell you what happened, I will come and tell you... because it is a blessing. When a person marries another, it's God's blessing," the 'Ponya' singer, 29, said Tuesday at a new briefing organised by MTN Uganda to announce the artistes whose concerts it will be sponsoring this year.
"I will talk to her managers and see if she [can perform]. It will be great for us. Because she is a gospel artiste. She is a woman of God. Very, very blessed. We thank God for her testimony. Her testimonies are changing the world," he continued.
"So, it will be a blessing to me, if she gives me a chance... and she comes to perform... it will be a blessing."
When Desire Luzinda returned to Kampala from US in June, reports started making rounds that she had been dating Levixone for about three to five years.
Then both shared pictures on social media that portrayed an introduction ceremony.
Pulse
Later, a collaboration titled 'Yoya' was released by Levixone and Ray G featuring Desire Luzinda. In the video, they appear in the same outfit shared earlier on social media.
In the song, Levixone belts out: "I sing, I praise, thank you lord... where you are, nothing can fail."
Ray G renders: "It's your day... A perfect beautiful woman like you doesn't desire anything... I'm yours... we stay without any debt, apart from love. God loved me... and chose me to be yours... What's yours is mine. You are mine."
Meanwhile Levixone has said he will sing gospel music all his life.
Get our Top Stories delivered to your inbox
Eyewitness? Submit your stories now via social or:
Email: news@pulse.ug
Recommended articles
'Don't claim you love someone if you haven't done this for them'
'I inspire big women… no one can stop me' - Winnie Nwagi
Nick Cannon welcomes his 10th child, weeks before his 11th is due
Women failed to accept men have weakness for beautiful girls - Kamenyo
My ex-lover made me abstain until I met pastor Bugingo - Susan Makula
'Stalker' drives car into singer Chris Brown's home, crashes Tesla
'Nicki Minaj is broke like, broke broke,' says rapper Azealia Banks
Ronald Alimpa accident: Bobi Wine mourns passing of Lady Grace, three others
Meet Don Andre, Uganda's fastest rising comedian