Fresh Daddy speaks on girl accusing him of rape
Musician Fresh Daddy, real name Paul Mutabaazi, has been accused of forcing himself on a girl whom he had promised to help grow her singing career.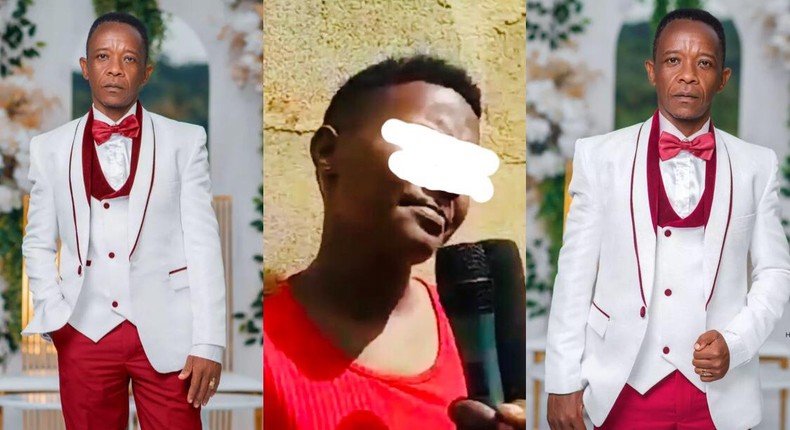 The girl has only been identified as Ndagire.
The girl, who looks like she is in her early teens, said Fresh Daddy drove her to Busega, a Kampala suburb to a place she keeps calling "Gardens" in video interviews shared on social media.
"I didn't want to enter into the Gardens because I thought we were going to sit outside, when we entered, he paid for the room and told me we should enter. I asked him, what are we going to do? And he told me he wants to rest... I told him I want to stay outside, he told me to enter because it will look bad if I remain outside," she said.
"When I entered, he closed and told me to undress... I asked him why he wants me to undress, and he said you told me you want me to be your manager and you wanted to sing, and I told him I want all that. But when Fresh Kid [Fresh Daddy is the father of rapper Fresh Kid] was becoming a star, he didn't have to undress like you are telling me," she went on.
"Then he told me, do what I have told you if you want me to become your manager. I refused and he removed my clothes, pushed me onto the bed and did what he wanted, and opened the room and we left. After leaving the house, we didn't speak until he dropped me off where I departed from and he gave me Shs10,000. After giving me the money, he told me he will send me more Shs200,000 to produce my audio."
She said that at the spot where they booked a lodge, they didn't sit to have anything to eat. He left her in the car, booked a room, and returned to pick her.
Pulse
On Thursday afternoon Fresh Daddy took to Facebook to deny the allegations.
"Please everything you are hearing about me is not true... I'm a father and parent so I know how worth a girl child is," he said.
Daddy sprang into the limelight after his son became a music star.
Eyewitness? Submit your stories now via social or:
Email: news@pulse.ug
Recommended articles
Sheebah: I can't blame Jeff, the music industry changes you
This video featuring Rema and Kapere will crack you up
Here comes Meghan Markle and Prince Harry's Netflix blockbuster
Kenzo laughs off CMI operative rumors
Zuena: I have to build my own brand despite being married to a rich celebrity
Zari: I may no longer look so 'glamorous but I'm still gonna slap'
Pallaso says Jowy Landa will give female singers a run for their money
Video: Precious Remmie goes out with the girls, shake Nyash on the water
MC Kats explodes at Swangz CEO for hurting his feelings