Detectives quiz Weasel, Sandra Teta in domestic violence saga
Police Spokesperson Senior Commissioner of Police (SCP) Fred Enanga confirmed Monday morning that officers from the Criminal Investigations Directorate (CID) have interrogated singer Douglas Mayanja, alias Weasel, and his wife, Sandra Teta, over domestic violence accusations.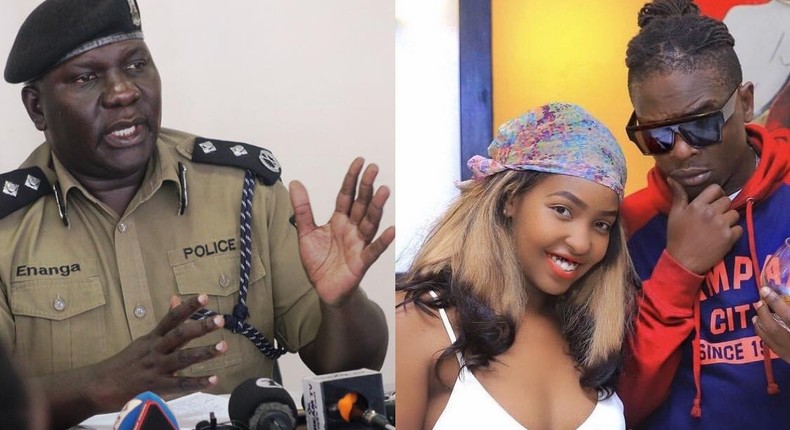 "Yes," Enanga said when this reporter asked if the detectives had talked to the couple.
He, however, couldn't offer details on the progress of the case because "investigations are still ongoing".
He said they're waiting for a "final report".
When a picture of a battered Teta appeared on social media recently, a lot of people came out of the woodwork with sweeping claims that the singer had subjected his wife to various forms of domestic abuse on multiple occasions.
The most revealing details were from Daniella Atim, wife of Jose Chamelone (Weasel's elder brother), who didn't spare any secret, as she walked her Instagram followers through years of domestic violence in the Mayanja family.
According to Atim, the situation has been made worse by their mother-in-law, who is always siding with her sons every time they (the wives of her sons) have complained to her about her abusive sons.
Weasel and Chameleone have tried to convince her to stop lifting the lid on family secrets, but she noted that keeping it undercover could have dire consequences.
"What you guys are doing is not good. You guys are not doing the right thing. Her tooth is broken and you can see it," she told Chameleone in a WhatsApp conversation, who replied that "all will be well".
She told Chameleone that "Weasel needs help" and he might "kill that girl if we keep shielding him." [Daniella shared the WhatsApp conversation on her Instagram.]
The mother of five told Weasel that despite her love for him, he needs to reconsider his approach to marriage.
"Weasel you need to stop. I love you and don't want you to end up in a bad place. It's not too late to make peace and be a better husband," she said.
Her mother on Sunday appeared in a media interview in which she was quoted saying that Teta knows what she wants so she shouldn't be looked at as a victim.
Get our Top Stories delivered to your inbox
Eyewitness? Submit your stories now via social or:
Email: news@pulse.ug
Recommended articles
'Don't claim you love someone if you haven't done this for them'
'I inspire big women… no one can stop me' - Winnie Nwagi
Nick Cannon welcomes his 10th child, weeks before his 11th is due
Women failed to accept men have weakness for beautiful girls - Kamenyo
My ex-lover made me abstain until I met pastor Bugingo - Susan Makula
'Stalker' drives car into singer Chris Brown's home, crashes Tesla
'Nicki Minaj is broke like, broke broke,' says rapper Azealia Banks
Ronald Alimpa accident: Bobi Wine mourns passing of Lady Grace, three others
Meet Don Andre, Uganda's fastest rising comedian